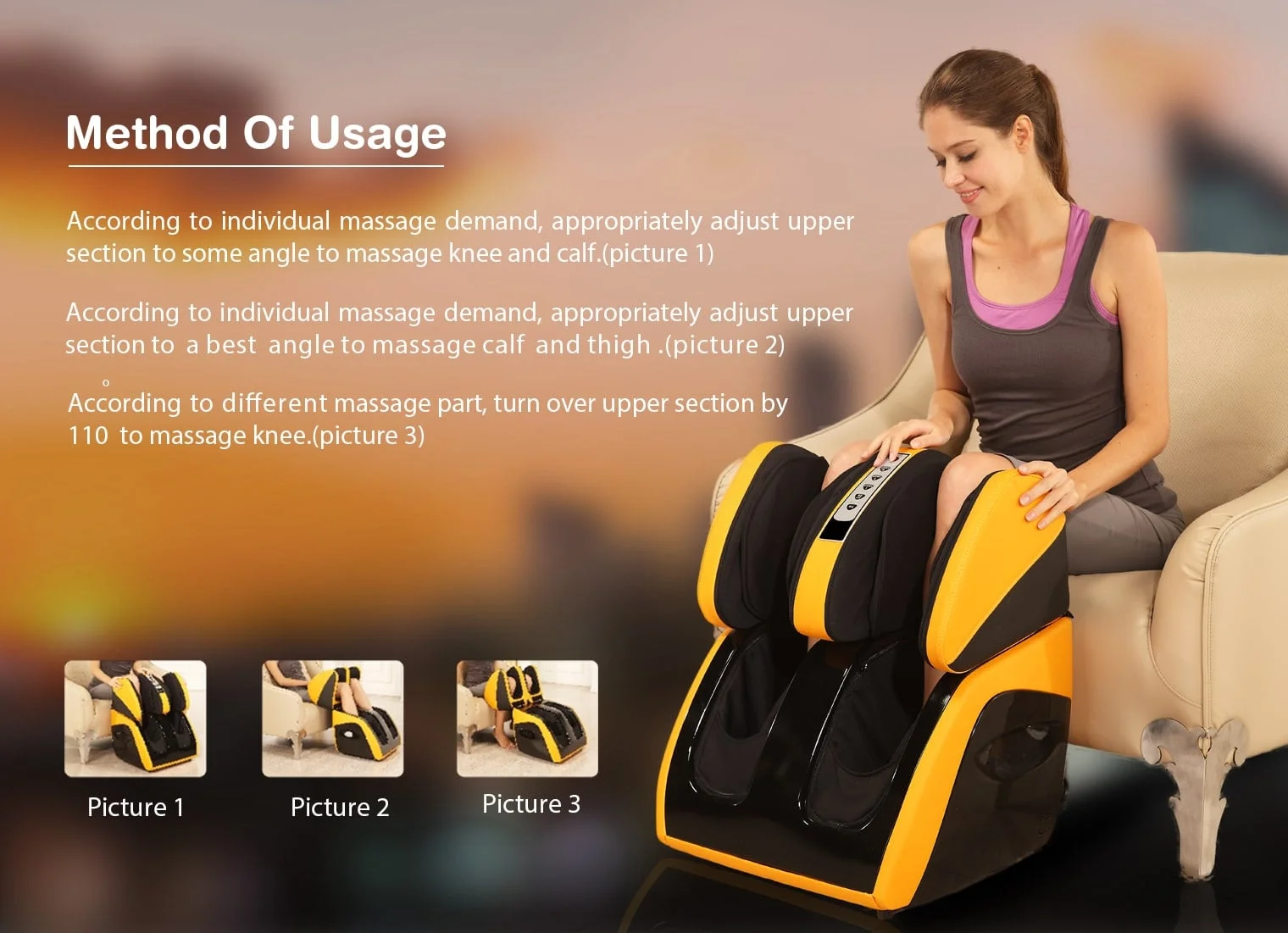 Product Description:
A new age, smart Foot, Calf and Leg Massager which comes with inbuilt experience modes including intense kneading & vibratory reflexology. It's an upscale version of the classic model preloaded with therapeutic massage options pain alleviation from overworked calves, feet and ankles. The aesthetically brilliant product offers a host of wellness and health benefits. The next level of luxury at your feet!
Features
Enhanced foot massage experience delivered by inbuilt high-quality airbags
Loaded with two up & down sections in tandem with overturn function for greater efficiency
A grand, premium look & feel replete with cutting edge design & fabulous features
30 built-in airbags with thigh kneading effect for an enhanced therapeutic effect
Powered by 3 active rollers to massage the feet muscles & stimulate foot reflex points
High impact organic combination of wheel powered kneading and rolling for a relaxing experience
Auto carbon-fiber generated heat on thigh and ankle areas for warm therapeutic effect
110-degree turning radius for up and down section for ideal knee positioning and great experience
Easily portable product with less than 45db sound level & auto shut off activation post 15 minutes
Power packed with 3 distinct air massage models, 3 intensity options, three roller massage models
Loaded with features like auto mode shifting options in a timed environment & kneading cover with zip
Rated Voltage: C30 110-120V 60Hz 220-240V 50Hz/60Hz. Rated Power: 110W. Rated Working Time: 15 Minutes.
Benefits
Next generation leg and foot massager built to relax and rejuvenate sore and weary feet
Experience active rejuvenation in and around calves, ankles, and feet
Scaled up blood circulation to revitalize tired legs, feet, and other crucial lower joints
Custom devised high-end massager to nurture tender feet & calf muscles for instant relief
Smartly devised to deliver therapeutic effects that provide absolute relief from aches and pains
Futuristic smart device that enhances blood circulation across the lower body
Aids greatly in toning leg, ankle and feet muscles for better overall health
Comes across as a boon for diabetes patients with special needs
Massage intensity at fingertips, easy to clean & maintain, ideal to display
Extended luxury at Classic plus foot & calf massager your feet, in your service
Technical Specifications and Features
Preset massage program
1
Rotation
110°
Upholstery
Synthetic leather
Massage air bags
30
Massage speeds
3
Heating
Yes
Timer
15 Minutes
Massager height
60 cm
Massager weight (kg)
25 kg
Voltage
220V
Available colors
Red,Yellow