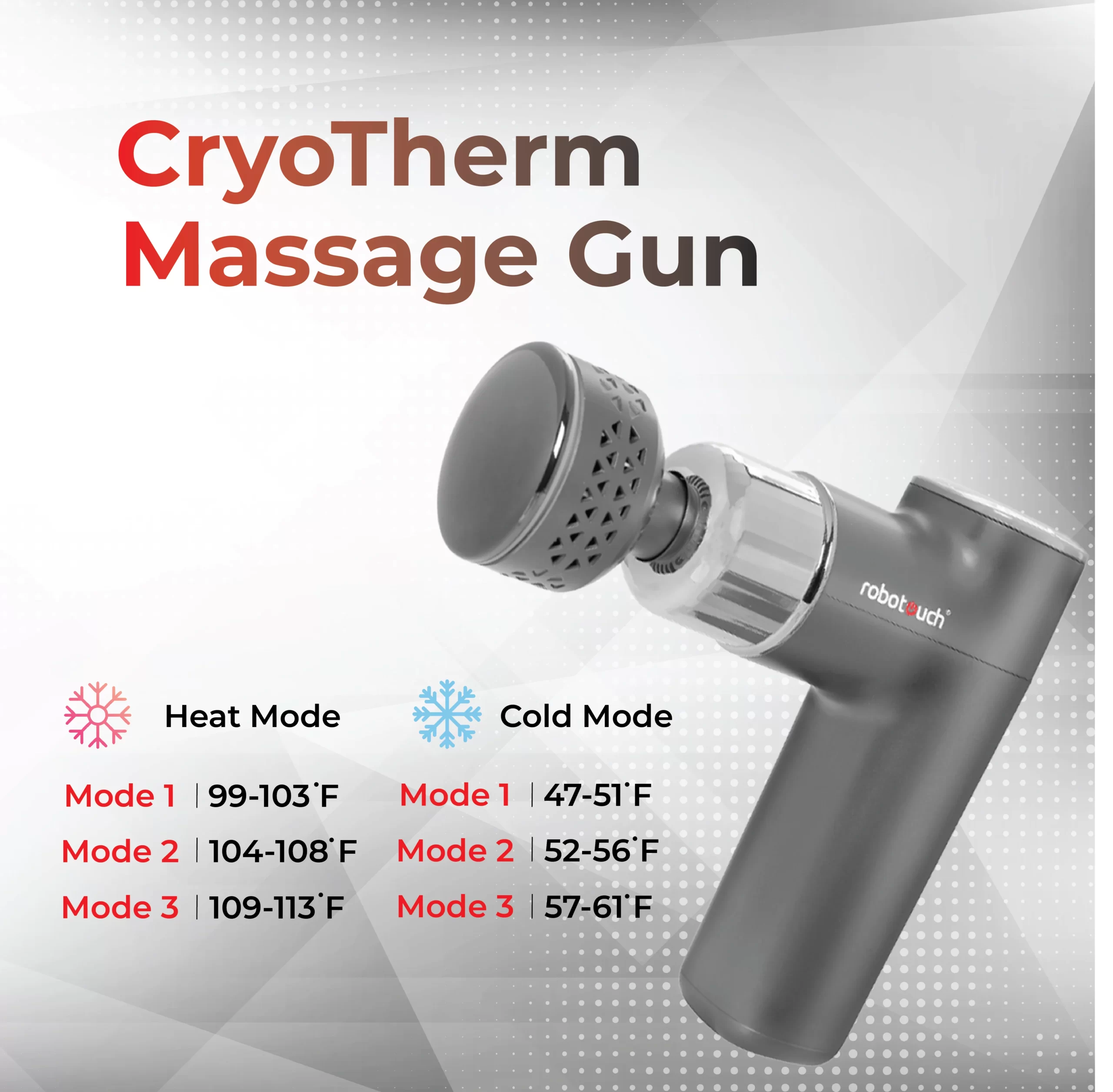 For fitness enthusiasts and athletes alike, the RoboTouch CryoTherm Hot & Cold massage gun is an indispensable recovery tool designed for use before and after your workout sessions. Accelerate muscle recovery and ward off muscle fatigue as this massage gun effectively dissipates lactic acid buildup, providing relief from muscle soreness.
Elevate Blood Circulation with the Soothing Hot Compress Effect
Experience rejuvenation through the soothing hot compress effect of the RoboTouch CryoTherm Massage Gun. It not only enhances blood circulation but also warms up your muscles and alleviates muscle stiffness.
Relieve Aches and Pains with the Refreshing Cold Compress Effect
Harness targeted relief with the RoboTouch CryoTherm Massage Gun's cold compress effect. It aids in reducing pain and swelling, expediting recovery from minor traumas, scratches, sprains, and bruises. Simply apply for 15 minutes each session.
Experience Deep Penetrative Relief with Powerful Massage Action
Unwind tight and tense muscles, release bodily stress, and combat fatigue with the potent, high-frequency vibration of the RoboTouch CryoTherm Massage Gun.
Versatile Massage Heads for Precision Therapy
Equipped with four distinct massage heads, the RoboTouch CryoTherm Massage Gun empowers you to target specific body areas with precision. It includes a multi-point massage head (suitable for chest, legs, hips, palms, and soles), cat ear massage head (designed for neck, shoulders, and spine), sharp point massage head (for deep tissue therapy), and airbag slow flushing massage head (ideal for relieving stress-sensitive areas).
Customizable Massage Intensity
Find your optimal comfort and preferences effortlessly with RoboTouch CryoTherm Hot & Cold Massage Gun as it comes with various levels of intensity.
Compact and Travel-Friendly Design
Designed with your active lifestyle in mind, the RoboTouch CryoTherm Massage Gun boasts a compact and portable design. Whether you're on the road or hitting the gym, you can take it with you. Plus, it comes complete with a convenient carrying case for added convenience.
The Hot-Cold massage gun delivers targeted relief, relaxation, and recovery. With its unique cold and hot compress effects, formidable massage capabilities, versatile massage heads, and customizable intensity levels, it supports healing, pain reduction, and overall body rejuvenation. An invaluable tool for athletes, sports enthusiasts, active individuals, or anyone on the path to recovery.